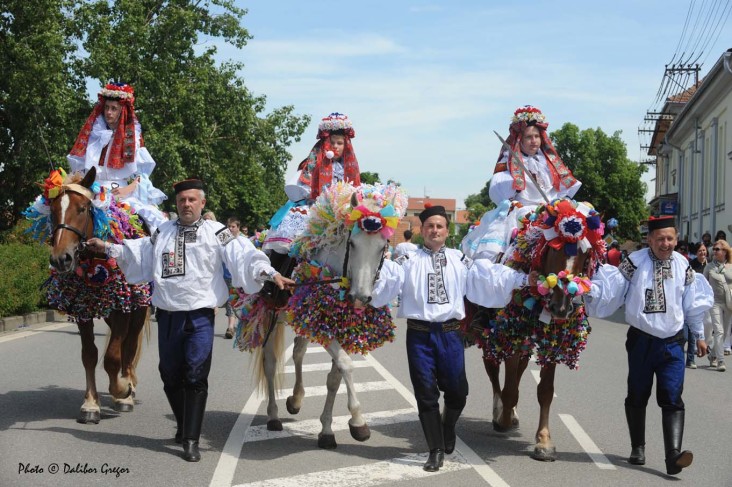 Who can become the so-called "pentecost king"? Why is the king dressed in women clothes, his face covered ribbons and has a rose in his mouth? What purpose has his retinue? Where does this tradition originates? These questions and many more will be answered during this years' FOR HORSE Fair, where this traditional folk custom exclusively presented to the public by Kunovice banderium.
Visitors can look forward to a specific dress of the horses, which is tied to this tradition, and which differs by the location of the ride of the kings and by the position in the banderium. This ornamentation is composed by a large number of paper roses, fringes, ribbons, bows, hearts and coins. Their creation takes a lot of time and handy women hands. Separate decorations are then weaved into horse tails and manes, their bridles and halters, or they are intertwined in large portions, which are fasten on a turkish scarf and cover the hips and the entire back of the horse. Part of the decorations of each horse in banderium is also a large ribbon heart, which horse carries on its breast.
Kunovice banderium will present this old moravian slovakian custom in which apart from the king himself, you will see bannercarrier, crier - collector in traditional dress from Kunovice in saddles of Czech-Moravian Belgian horses. Part of the banderium will also be a two-horse carrige of breeding stallions of Czech-Moravian Belgian breed from Zemský hřebčín Tlumačov (Czech stud farm Tlumačov) - Amazon and Santys - which will have the honor of carrying the king and his parents.
The task of the criers is to reach out by rhyming to anyone that banderium visits and ask them for a gift for the king and his retinue. For every gift, there is thanks to every inhabitant of the house and usually a wish of all good to them.
Ride of the kings is such a unique regional tradition that it in November 2011 it was added on the list of Masterpieces of the Oral and Intangible Heritage of Humanity of UNESCO.
The Ride of the Kings is without a doubt one of the few beautiful traditions that are hidden under a veil of mystery and secrets. No one can undoubtedly say why the ritual of initiation of boys into men actually begun, it is important however for it to be perserved in authentic form for future generations. Under normal circumstances, the Ride of the kings could only be observed in a handful of towns and villages in Moravian Slovakia and Haná. Now, you have the opportunity to get to know this ancient traidition either alive or in Prague during the Night Horse Show or through the photo exhibition of Mr. Ing. Dalibor Gregor, which will too be a part of the Fair. Kunovice banderium is looking forward to meeting you.