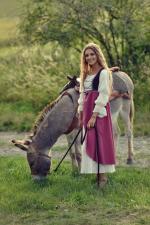 All donkey breeds use the same "language" when communicating. Their characteristic braying is accompanied by additional hoarsing sounds and sighs and the volume and intensity can startle and even scare the unaquainted, especially when a "solo" performance is joined by more donkey "singers" and the whole chorus sing together.
The numerous and varied collection of donkies of differend breeds will be very attractive especially for children visitors of FOR HORSe, who knows this animal mostly just through fairy tales and movies. Now, they will be able to see with their own eyes the representatives of the largest and the smallest of the breeds. A premier will be the showcase of the smallest donkey breed in the world - miniature Mediterranean donkey - a year old jack called EROS, born on Llama farm in Malá velen, whose "KVH" (Absolute hight) will not exceed 91,44cm. Original home of miniature donkies were the islands of Sardinia and Sicily, but they are nearly gone at those locations. The 1930's saw a massive export of the miniature donkies to the USA, where this breed became popular and nowadays hosted the strongest breeds in the miniature donkies population in the world.
One of the first american breeders had described the temperament of these small beauties like this: "A miniature donkey is as gentle as a newfoundland dog, as peaceful as a cow, as persistent as a mule, as brave as a tiger and only a slightly less intelligent than a man." Visitors of the Fair can make sure these words speak true. Not only Eros the jack, but a ten-memebers collection of donkies, who were prepared for the Fair by the members of the Donkey Specialist Association, will be presented to the viewers during daily accompanying program and the breeder section, as well as the presentation of their use. Looking forward to meeting the children are: Aladin, Coba de Ezel, Merel, Pepíček, Severka, Mikuláš, Barro, Eros, Amigo a Bobík.