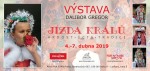 Ing. Dalibor Gregor
Is among the foremost professional horse photographers. He is an author of more than 55 successful books on this topic and his books are admired by readers in many countries in Europe and further.
In the last couple of years, you could have seen his photographs at following exhibitions:
Black and White • Lipizzans - my love (Lipicáni – moje láska) • Lipizzan - horse king and king of horses (Lipicán – kůň králů a král koní) • Beauty of French Camargue horses, the charm of Provence (Krása francouzských koní z Camargue, šarm z Provence) • "Parforse" hunting (Parforsní hony) • Beauties of Thoroughbred in Napajedla (Krása anglického plnokrevníka v Napajedlích) • The Nobility of horses (Ušlechtilost koní) • Pozor, vyletí kůň! • and many more.
Mr. Gregor started an international project HORSES FOR KIDS (KONĚ DĚTEM) in 2009, which aims to create and deepen positive connections between children and animals.One of many goals is to integrate ill or handicapped children to animal-based events.
Dalibor Gregor has travelled for horses all around Europe.
He had published books based on his travelling which had captivated professionals and public alike.
His personal motto is:
"Nobility and beauty of horses force you to start thinking about yourself"