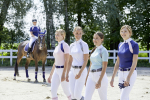 Ketris s.ro. company is focusing on selling a wide range of farming products and pet supplies. It also offers supplies and equipment for horse and riders. Ketris s.r.o. will present a selection for horses and riders on FOR HORSE Fair, especially the equestrial fashion brand Covalliero, which prides itself on quality merchandise for adequate prices.
An indisputable advantage of this clothing line is that it is not intended only for horseriding. With its sophistication, the jackets and vests are ideal for wearing to nature as well as in a city. A virtue of the brand are modern colors and intelligent details together with sophistication and functionality (permeability, wind and rain resistance). Customers of all ages and stature will find sweatshirts, jackets, vests, breechers and riding gloves. It is no suprise that the number of satisfied customers steadily increases.
When we talk about riders, we cannot forget about horses. A saying "a harmony of horse and rider" gains a new dimension. You and your horse can be aligned from tip to toe. The offer is wide - ear caparisons, saddle blankets, horse blankets, bandages, halters or leashes. So not only you can align your jacket with breeches, you can "dress" your horse in same colors as well.
The entire collection of Covalliero brand can be seen at the website www.ketris.cz and of course at the FOR HORSE Fair in Prague. You will have the opportunity to make sure not only about the quality and style of Covalliero brand, but also about the price availibility. Covalliero for horses and riders can be a love at first sight.
We are looking forward at Your visit on our stand.
Ketris s.r.o.